"Motivation is what gets you started. Habit is what keeps you going." – Jim Ryun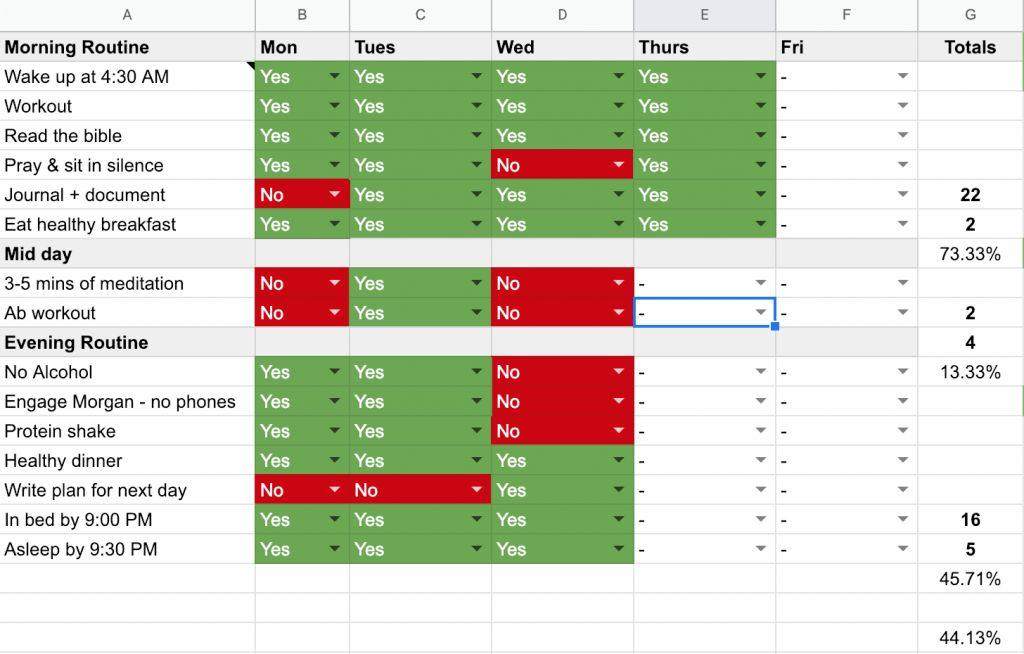 If you have done any amount of reading on my blog then you know I am very goal-oriented. I make goals every year and now every month to keep me focused and to remind me of what I want to accomplish.
I put a lot of pressure on myself to reach my goals. But hitting your goals is easier said than done.
I have read countless books about goal setting, habits, human psychology, personal growth, and more and am always looking for ways to improve my ability to reach my goals.
The CEO of Carrot, Trevor Mauch, showed me his daily habit tracker one day on a call and I knew it was something I had to try.
It is really easy for me to get motivated by my monthly goals but it can be hard to focus on them daily and to know if you are moving in the right direction.
This simple spreadsheet has made all the difference.
The Daily Habit Tracker Spreadsheet
What do you want to accomplish each day?
Break it down into morning, afternoon, and evening. Put them on a spreadsheet and document your progress on each.
Here are some guidelines when creating your spreadsheet
These should be yes/no answers
They should be fully within your control (not dependant on others)
They need to mean something to you
They should affect other habits you are trying to create. Example getting up early means going to bed early.
Check out my daily habit tracker spreadsheet example below.
---
Why These Habits Matter
Most of my monthly goals involve my health, focusing on my faith, and family time. I set these habits up to help support me in hitting all of these goals.
You'll notice that I must skip alcohol and go to bed early so I can get up early and work out.
I must plan my day the night before so I can focus on reading the Bible and journaling in the morning.
I must take a break from the middle of the day to recenter and get a quick workout to get the blood flowing.
Don't think…just do
Another unintended benefit of the habit tracker is I know what I SHOULD be doing before I even do it.
Sometimes I miss a couple days of my habits and I feel off and unmotivated. I don't have to think what would put me back on track. I already know that getting back on track means following the habits I have already outlined.
Getting Nerdy With Data
I took my spreadsheet a step further by calculating how many of my habits I am hitting per week. It is as simple as counting the yes vs no ratio and dividing it by the total number of habits.
My goal is to hit 80% of my habits each week.
Historical Reporting
I have a column not shown in the screenshot that records my historical weekly % of completed habits. It helps me see trends when I stop my habits and can motivate me to get to the 80% mark.
One thing I quickly learned about tracking daily habits is it takes some pressure off you feeling like your day was unproductive.
If I have a bad morning and a lot of red I can accept that and focus on turning my evening to green.
Often I would get to the end of my day and feel lost and not sure what I accomplished. But quickly pulling this up and having it in front of me makes it easy to see where my wins for the day were.
Tips To Implement The DHT Spreadsheet
Bookmark the spreadsheet so it's easily accessible
Have it open in your browser tabs at all time
Email it to yourself so you can quickly pull it up if needed
Talk with your spouse about it so they can hold you accountable
Don't be afraid to remove and add things as necessary
Audit the list regularly. If you fail the same habit day after day ask yourself why
Download Your Daily Habit Tracker
Want to give the tracker a try?
Join The Newsletter
Get occasional emails from me when I publish new projects and articles.