Full disclosure. I work for Carrot (some still call in Investor Carrot). But I also use the product. This is my Carrot Website Review from my experiences and what I know to be true.
At its core, Carrot is a lead gen and marketing product. But Carrot (carrot.com) offers much more than just a website.
In honor of full transparency, I work for InvestorCarrot. But I strongly believe in the product (hence why I work for Carrot) and have a first-hand look at how well the platform works. Here is a Carrot motivated house seller site if you want to check it out.
I am not a real estate expert.
I haven't closed hundreds of deals like some members using Carrot websites.
But I have been able to… customize my site, rank it for keywords I want, and generate consistent leads. I also blog about my real estate marketing experiences.
Customize my site
Rank it for the keywords I want
Generate consistent leads
Run all my marketing with Carrot's built-in tools
This review will get into more details and show actual screenshots of my website's back end so you can see what a Carrot member sees.
But first, I want to briefly talk about who Carrot is for and who it isn't for.
Who would get the most out of this Carrot website review?
Real estate investors need more than a few pages of content.
If you go the Wix or Weebly site, you can get a website that looks different than most, but you will need to create some content for those pages.
Then you will need to find a way to track where the leads are coming from, some form automation (autoresponders, getting the lead into your CRM, etc).
With Carrot, most of these features are built into the websites.
The back end has everything you need to track leads, create custom content, manage leads, and see your website's stats. Mix in some of my favorite features like SMS text notifications and two-step forms, and you have a powerful real estate investor website.
Also, InvestorCarrot websites convert darn well. Carrot is always running conversion tests to see what works and what doesn't
On average, my website converts around 4-8% for paid traffic (which is how I generally drive traffic to my website).
So what I am trying to say is Carrot is perfect for the real estate investor who sees the importance of having an online presence and needs built-in tools to effectively market their site.
But spending money on a site doesn't make any sense and InvestorCarrot sites convert. The proof is in the pudding.
Who won't benefit from this Carrot website review?
If you want to launch a Carrot website and do nothing to it and expect the leads to just roll in…well, bad news, you will have a tough time with Carrot websites.
But if you review your market, you will undoubtedly see InvestorCarrot websites, which means the platform works.
But it only works if you do (or are willing to hire out help).
Finally, if you care more about how a website looks than its performance, you might not want to get involved with Carrot.
Conversion > Cool factor always wins if you ask me.
This Carrot review will cover 5 major areas…
The goal is to show you why I like Carrot for generating motivated seller, and cash buyer leads online.
I will go into how to make your Carrot website look different if there are already Carrot websites in your market and some of my favorite features.
Here is an example of a Carrot website…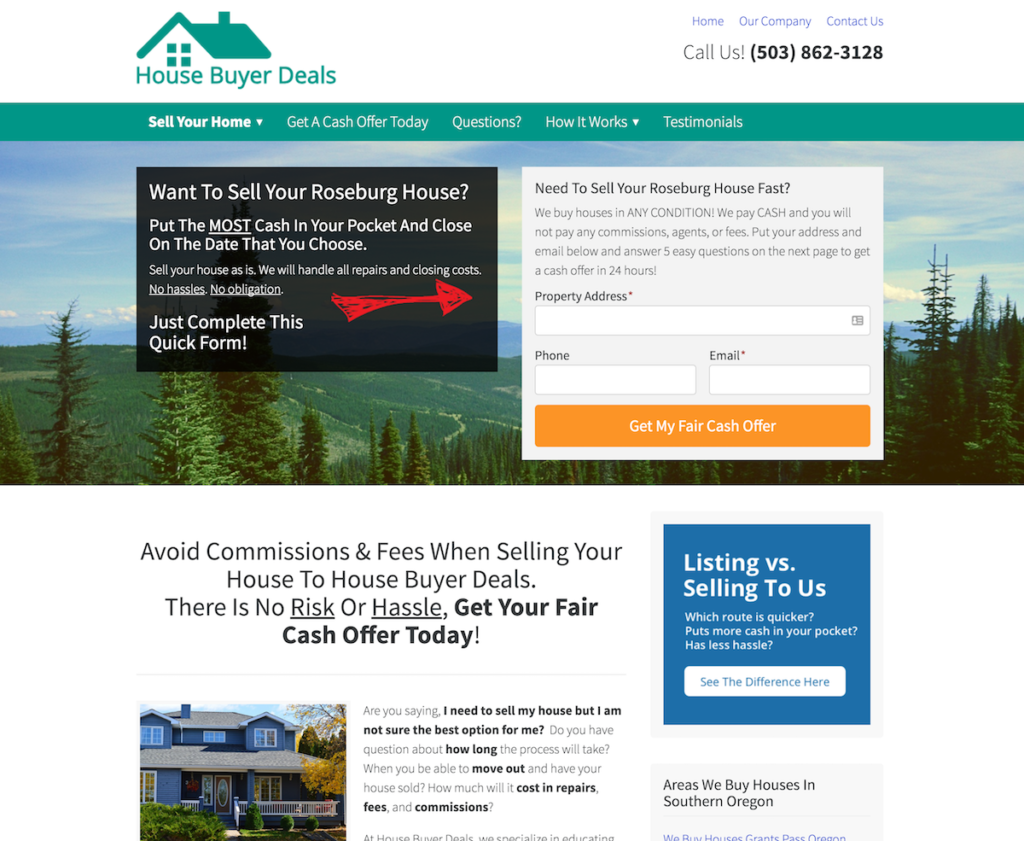 Is Carrot easy to use?
We may as well start with the most subjective part of this review. The answer is 100% it depends. Hear me out. Carrot is not a system where you turn it on, and your business is suddenly transformed. That type of tool DOESN'T exist. But if you want to build on a platform that makes it really easy to track links, create custom content, and convert at a high level…keep reading.
All you need to get started with Carrot is a custom domain name (I recommend NameCheap)
To get started with Carrot you can decide on which style of site you want to launch. These site styles target different types of leads (cash buyer, motivated seller, tenants, etc). See below.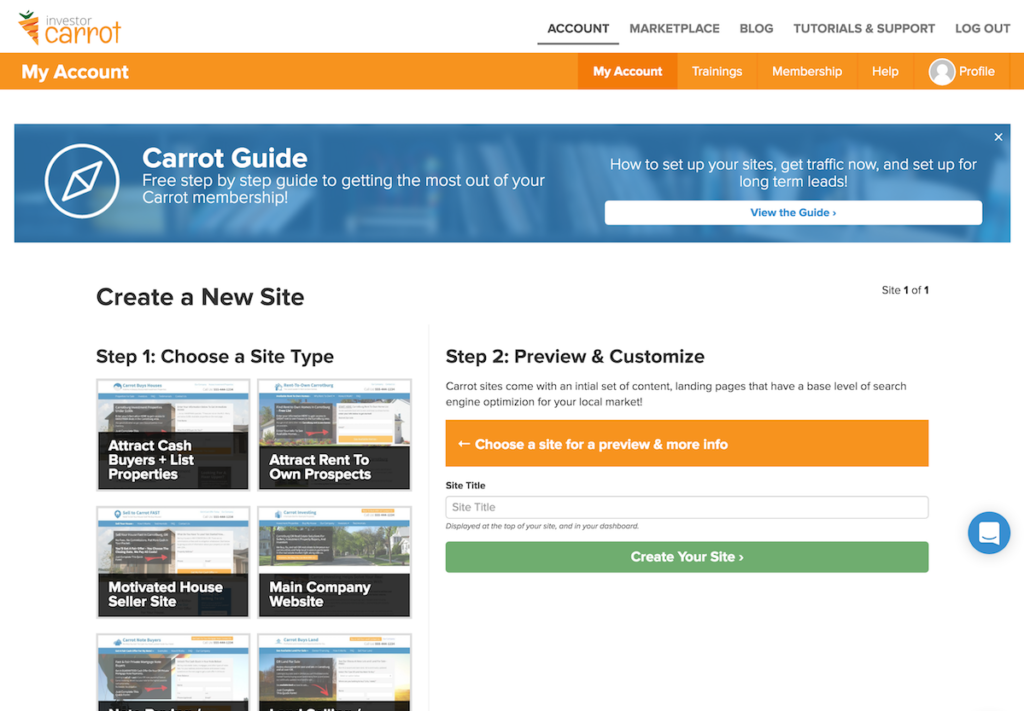 This is a huge advantage because you already have a built-in strategy when launching your website.
From there, you will need to get your domain hooked up, and you are off and running.
Here is a quick video on some of the basics of a Carrot seller website
How does Carrot compare to Wix or Weebly for starting a website?
Wix and Weebly definitely make signing up for their service incredibly easy. Probably a little easier than Carrot. But once you are signed up, you have a blank canvas. That is to say; you would need to start creating pages with content, adding images, linking to other pages, etc.
With Carrot, once you get started, your website is 100% finished. It comes built with pages, landing pages, blog posts, and much more, which are optimized to a location you specify. They take all the guesswork out of "starting" a website.
Editing Carrot pages
No doubt you will want to change some things on Carrot. We get into that a little later with the customization section. But suffice it to say that Carrot is WordPress based, so the backend of your site will look familiar, and everything can be accessed within a few clicks. No need to know any code. Which is a big help for real estate investors?


---
But does Carrot deliver the goods leads?
Finally, we can move beyond the subjective part of this review and get into some more hard-hitting, data-driven analysis of Carrot.


When real estate investors talk about results they generally mean one of two things.
Leads
Deals
Carrot definitely does generate leads for its members and blogs about the results. It is nice to see case studies between the CEO, Trevor Mauch, and Carrot members.
But of course, not every market or website will have a consistent flood of leads. It comes down to how much time and/or money you can devote to your business and getting results online.
When I started my website 2 months ago, I didn't see much action. But I expected that. It takes Google a while to pick up new sites and get them sorted out.
So in the meantime, I worked on rewriting some of the content on my Carrot website to make it unique to my real estate investing style and me. I prefer a more open and honest message to reflect that in my copy.
I also paid someone to make a simple YouTube video for me, and I created a Facebook business page. Basically, anything I could do to make Google look at me as a legit business.
After a month, I started to notice I was climbing in the search results. I was able to get on the first page for many of my targeted keywords which were fantastic…
Keywords like "we buy houses [my city], sell your house fast [my city}.
But one thing was missing. LEADS…
So I bit the bullet and kicked off a Facebook ads campaign. Sure enough, within the first two days, I got 2 brand new leads in my inbox. I also started retargeting because I could see that many people clicked on my Facebook ads but didn't opt-in. So now I can show ads to them on Facebook later. Well worth the $20 bucks and 2 hours on Sunday I spent.
This wouldn't be a true Carrot website review without some data and screenshots (see below).


I have only had my Carrot website up for 2 months, and I have 2 leads. But other Investors are generating hundreds of leads a month. They tend to have 3 things working for them.
They are in a hot market
They are ranking well for high-traffic keywords
They have a marketing budget for PPC, FB, retargeting, etc
The above three are what it takes to get consistent leads.
Here is a screenshot of the traffic I am generating on my Carrot site over the last couple of months.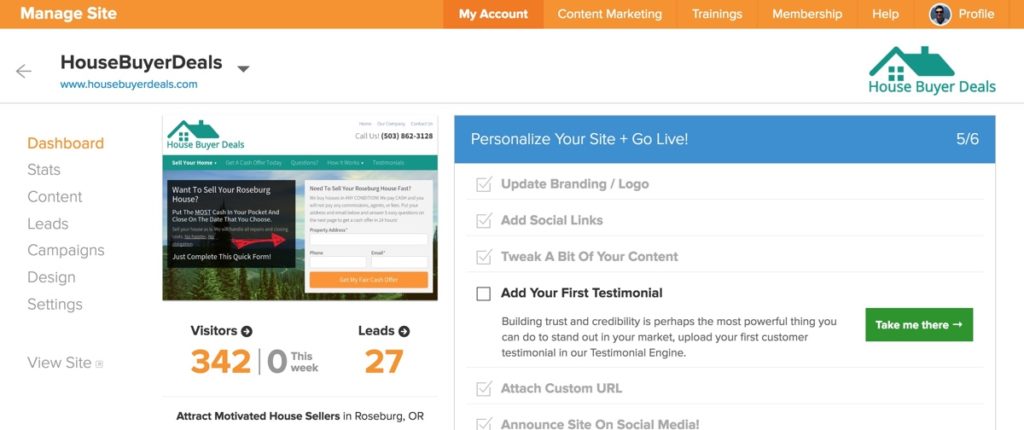 About my Weebly and Wix sites
I can't even find them in the search results. Part of the problem is the way I created the pages. I goofed up and deleted a few pages and couldn't redirect the URLs, so I have a bunch of 404 errors on my site. This is a problem that you can easily fix on a Carrot website.
---
What are some of the best features of Carrot sites?
Besides the fact that they are incredibly easy to rank in search engines? Carrot websites have a few other amazing features.
Carrot websites play nicely with a lot of other tools and services.
For example, all the forms have the ability to automatically email the lead, letting them know you received their info.
From there you can send the leads data to a 3rd party service like Podio, MailChimp, Constant Contact, etc.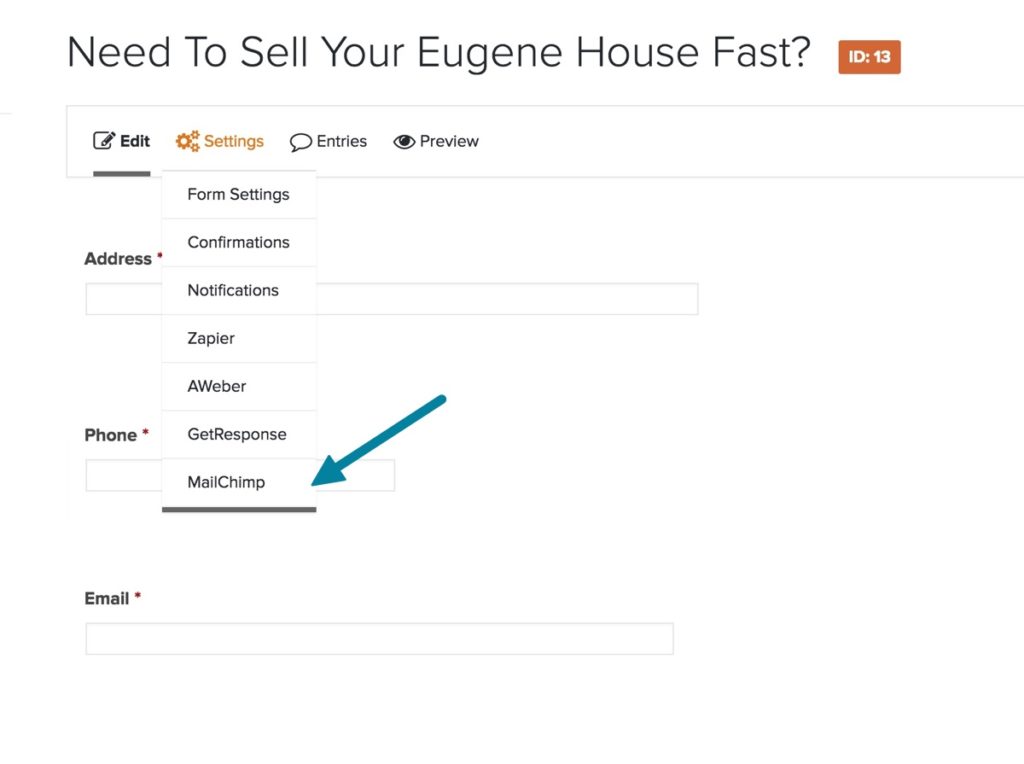 Carrot has a lot of features that you either can't get with sites like Weebly or Wix or it would require a developer to custom code something for you.
NEW FEATURE:
Carrot websites now allow real estate investors to more easily track their ROI with campaign tracking links.
These are custom links that you can put on your paid advertising campaigns to see what is returning the most money.

Another functional part of Carrot is its content marketing area. They have professionally written blog posts that are SEO optimized for your target location just waiting for you. The best part? They can be scheduled so you can set up a month's work of blog posts in 5 minutes.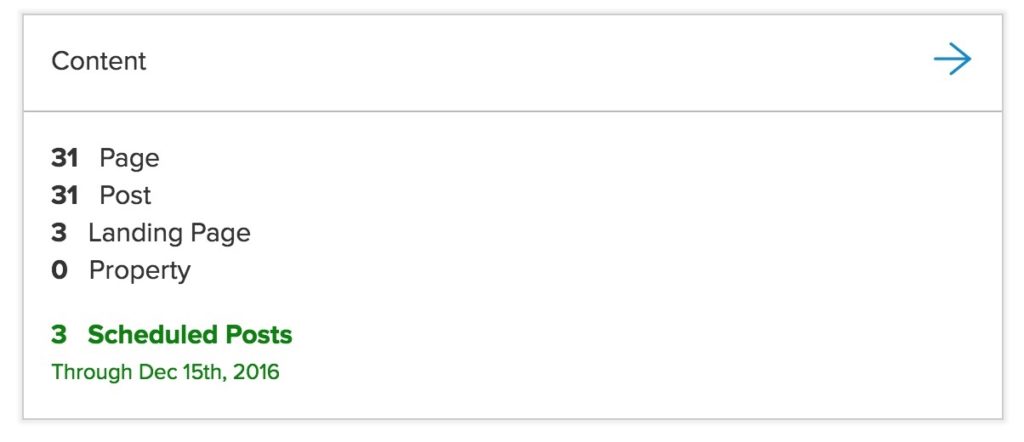 Here is a list of other features that Carrot websites have that I love:
Automatic backups in case something goes wrong
Built-in security for people trying to guess my password
Property listing feature that has some great features like showing which are sold
SMS text notifications when I get a new lead (feels really cool seeing that message)
Landing page creator (which came in handy for my Facebook ads)
The ability to check my SEO title and meta description on the page
The ability to schedule blog posts
It easily integrates with my social media pages
A monthly webinar that teaches something about REI (I am always learning)
So this review is turning into a bit of a love fest for Carrot. I will stop right now and deliver some truth.
You can get most of what I listed above done on any real estate investor website, but it will cost you some serious money.
It's not like Carrot has the keys to some code that no one else can reproduce. It's just that Wix and Weebly don't have a great way to insert plugins. Say you want your form to do something after a user submits it…good luck.
Or
Say you install WordPress and you can get some of the same types of plugins that Carrot has developed, but what if you want to move from Zoho to Podio and your plugin doesn't support that?
Have you seen the price of Web Developers lately? You will need a small business loan to make that change happen.
I find it unique that Carrot has devoted countless hours and $$$ to making websites specifically for real estate investors.
---
How easy is it to get answers from Carrot?
Okay this part is unfair.
Let me be honest and say that I have never used Weebly or Wix support, so they might be outstanding. But I always hesitate to call for tech help because I usually waste a bunch of time and leave disappointed and frustrated.
With that being said, I have used other companies' support enough to know when I am getting good service. If you google Carrot support, you will find many people having nothing but great things to say about customer service.


With that being said, I am sure more prominent companies with bigger teams have darn good support. With the number of forums and blog posts out there, it's hard not to find answers to your questions if you ask them in the right way.
Carrot support cares about its members, so their support reflects that.
So a few ways that Carrot support can help.
They have live chat
They have responsive email support
They have a help section full of tutorials (both video and written)
They have Mastermind calls for Content Pro members
They offer phone support, which many other REI businesses DO NOT.
Enough about that.
---
Let's talk about making your Carrot site look different
I saved this for last because if you made it this far, you deserve to hear my 100% open and honest opinion about Carrot customizability.
The biggest gripe most people have is that all sites look the same. Or, I see other members in my market with Carrot websites (which just means they work if you keep seeing them on the front page of Google).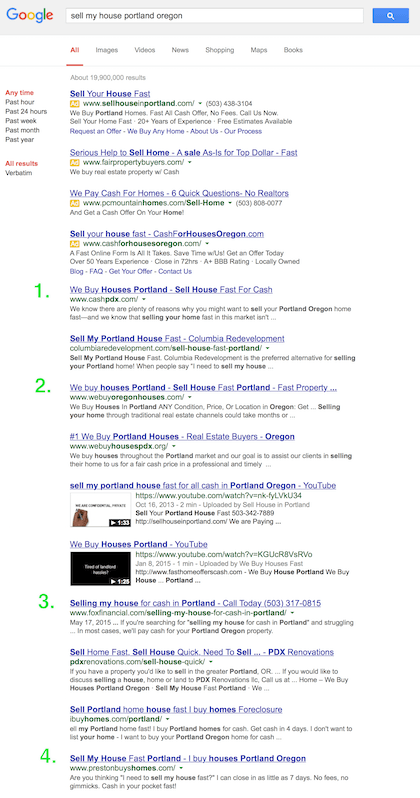 So here is the truth. Yes Carrot sites have a distinct flavor about them. But that is only because Carrot has tested what works and doesn't.
So here are a few things you CAN change.
Colors
Branding (logo, site title, etc.)
The layout of content (to a degree)
Anything in the sidebar can be removed, and a lot of other stuff can be added
Pictures
Text
Buttons (text and colors)
I am probably forgetting some things, but for the most part, if it's a design-type element, you can change it.
Now what you CANNOT do is say make your site look like your uncle's plumbing business or that super sweet app you just downloaded.
WHY?
Because that involves code, and if you can code, you probably don't need Carrot. If you want your site to look different, I have heard from Carrot's dev team that new site styles are coming very soon and will no longer be an issue.
So to put a final point on this. YES, your site will look like a Carrot website because that is what the data has said works.
No, you cannot customize every single thing on them.
Also, have you ever tried changing stuff around on a basic WordPress template or a Squarespace website?
Talk about a waste of time.
So if you want a site that looks different and you aren't as worried about ranking, then Carrot might not be for you, and that's okay.
---
Wrapping up this Carrot website review, should you pay Carrot $199/mo?
Short answer? I would.
Here is why. If you go the free route with a basic WordPress website, you will still need to pay for hosting, which could be as cheap as $10 a month. But you are in charge of security, backups, etc. Chances are, you will buy a plugin or something and bring up the cost. However, it will still be MUCH cheaper than Carrot. If you NEED a cheap website, then don't use Carrot.
But if you take your business seriously and have a budget to spend on a website, then go with the experts at Carrot because they focus on results more than if a website looks good.
I don't know where else you could even find that type of specialized focus in some industries.
Your other option is NOT using Carrot and trying to learn web development on your own with Wix or Squarespace, which is sure to eat a lot of your time.
If you were to hire a developer to build a custom website, it would cost more than $1200 (a total year's worth of Carrot), and he or she will likely know next to nothing about real estate investing.
It's hard to ignore how many search results have Carrot websites ranking number #1. If it works, then it works. Instead of worrying if people in your market have a site that looks like yours, worries about what information, tools, and features they have access to that you wouldn't by not signing up for Carrot.
If I have sold you on Carrot, you can sign up here
Join The Newsletter
Get occasional emails from me when I publish new projects and articles.