To keep your head on straight you need to use some tools when working on SEO. One of the hardest parts of SEO is finding which tools work. There are some big players in the game like:
We have used all of these tools and honestly, they all work great.
It really comes down to what software you are comfortable using and can you get the necessary data out of it?
However, we don't use any of these tools.
We have been using a service for nearly 3 years that not many people have heard of. Agency Analytics (originally called My SEO Tool), is a Toronto based company that provides a SERPs dashboard with some simple integrations that we really like. Here is a little more information about Agency Analytics from their website:
"Agency Analytics actually started under the name "My SEO Tool". The name (and only the name) was changed in 2015 to better reflect what we offer. The company was formed in 2009 by longtime friends Joe Kindness & Blake Acheson. They sensed a need for a tool that focused on the most important aspects of any internet marketing campaign, the client. The market was flooded with complicated and overly technical apps that completely ignored the significance of their client relationships."
This post will review some of the features of Agency Analytics, why we like it and a few gotchas that you should know before signing up for a 14 day free trial.
First and foremost, Agency Analytics markets itself as a tool for agencies and not SEO shops or experts. That is an important concept to understand.
If you rather watch a review, here is one that details Agency Analytics and Ahrefs
The Service
Agency Analytics charges based on the amount of websites and keywords you are tracking. They do this because they are actually using SEMrush data. In order to keep their costs maintainable they must limit how many times a customer hits the SEMrush API.
Our account allows us to track 30 websites and 1,000 keywords spread out amongst the websites. We also have 2 staff accounts, which is nice since we have two people on staff who are actively using Agency Analytics.
The Dashboard
The dashboard isn't as feature rich as ahrefs or SEMrush, but that is a good thing. It is very simple and the layout makes everything intuitive. When you create your first campaign you are walked through a nice series of dialogues and you can have your dashboard configured in seconds. Here is what our dashboard looks like.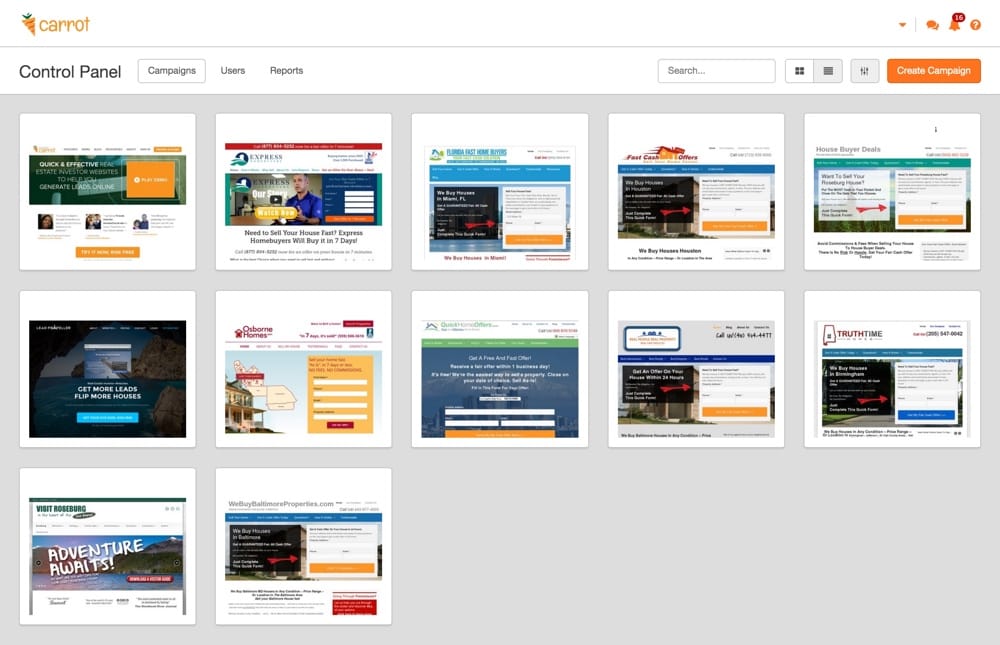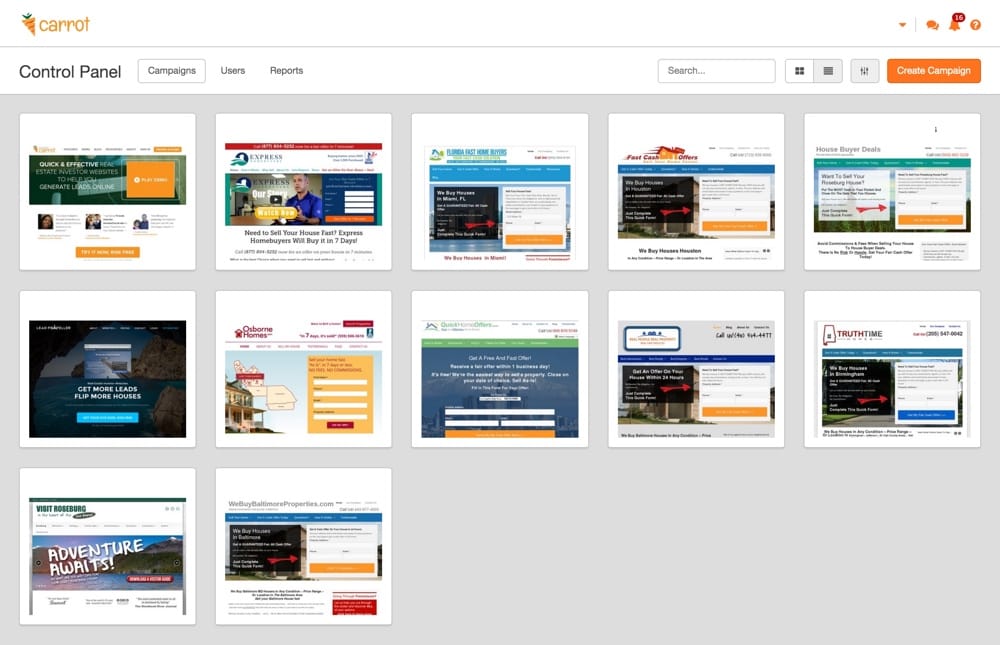 The dashboard is nice and simple. These are the websites that you set up. If you click on one you are taken to the website's specific data. Your dashboard will then look like this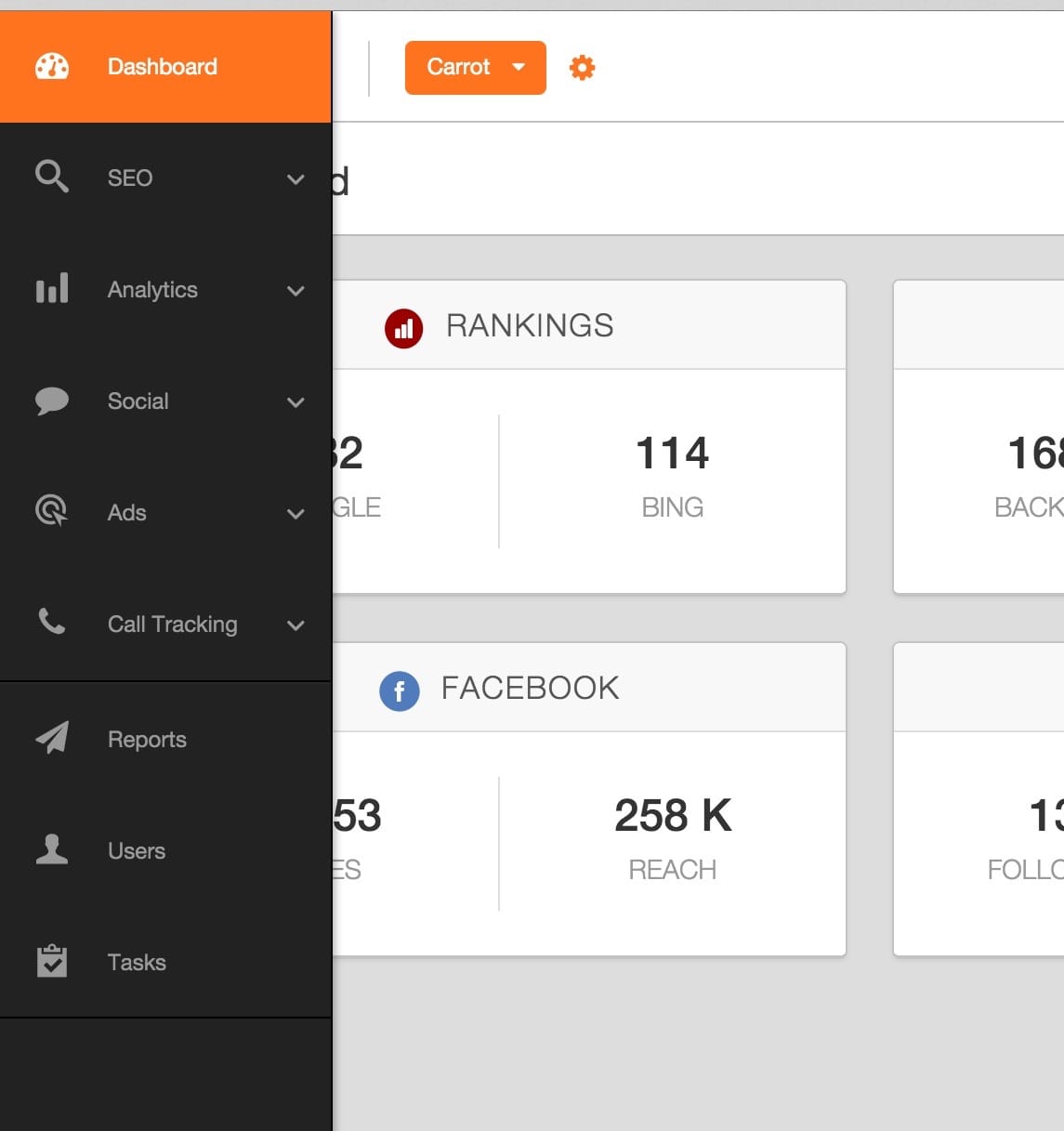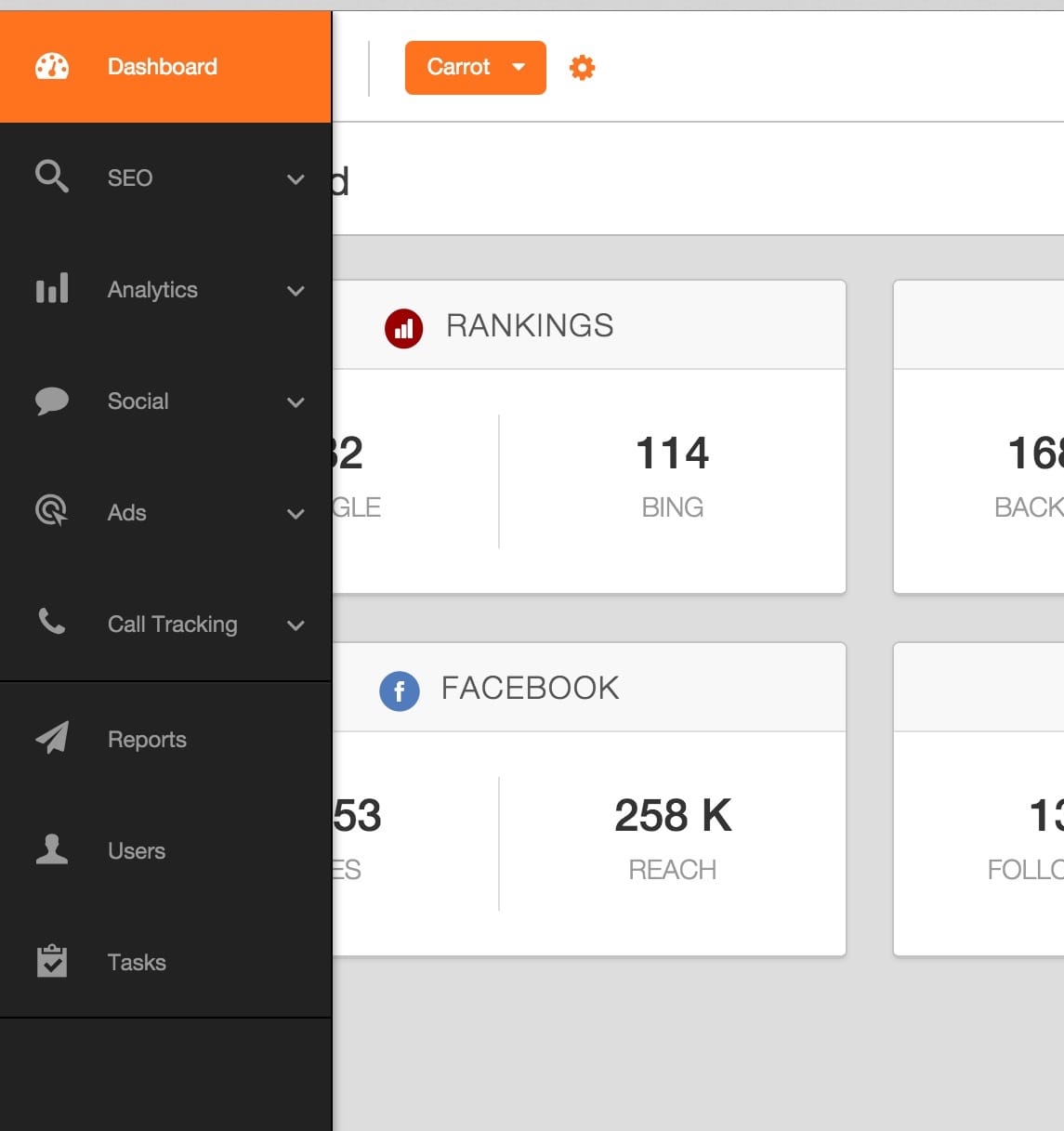 We really like how simple these options are and how easy it is to find everything. I will say this a couple times throughout this post but Agency Analytics doesn't have all the features that ahrefs does but it has the important ones and the simple approach makes navigating around easy.
Rankings
Of course, the most important feature of a keyword tracking tool is how well it tracks the keywords and what data it provides. Much like other competitors, Agency Analytics lets you track keywords in Bing & Google. One of my favorite features is the graph at the top that shows you your growth or decline of all your keywords month over month. This is a quick way to see your overall SEO status. If you see Green you are doing good, if you see Red and Orange, you better get to work.


As you can see we dumped a bunch of keywords into our campaign at the start of last year. This graph shows us that we have some keywords on the first page and some that are no where to be found. In all honesty our keyword list needs to be pruned. There are some keywords which are outside the scope of our key demographic but still fun to track our progress nonetheless.
You can get more detailed ranking data
If you want to see where each keyword is ranking, what page is ranking for that keyword, and how many backlinks it has, you can set up your dashboard to show all of that in one clean, simple dashboard view.


Within the rankings view there are is also some more information about backlinks.
However, the backlink section of Agency Analytics is probably it's least feature rich section. To my knowledge there is not way to put in a specific URL and see who is linking to it or what kind of SEO benefit they are passing (link juice). From my experience with Ahrefs.com if you are looking for more detailed backlink data Agency Analytics might prove underwhelming.


The highlighted tabs will show you some more data but needless to say, if you need to see what anchor text or domains are linking to your site, this will get the job done. The monitor tab, I honestly can't figure out what that feature does. The documentation is here.
Competition feature
This feature isn't Earth shattering, as other services and tools have it, but it is nice. You can give Agency Analytics a few of your competitors and it will show you some data like how many indexed pages it has and their backlink count. Other services will allow you to do a lot more spying on your competition but again, you can spend a lot of time focusing on what other businesses are doing and it will help very little to your bottom line.


SEO Audit Feature
To us, this is one of the best features of Agency Analytics.
Simply choose a campaign and Agency Analytics will crawl the site in a matter of minutes and tell you everything that needs improved on the site as well as what passes basic SEO best practices. This is ideal for your own website, or if you consult or have others looking for SEO advice. You can simple run a report and email them the results with a recommendation. Again, the data comes from SEMrush.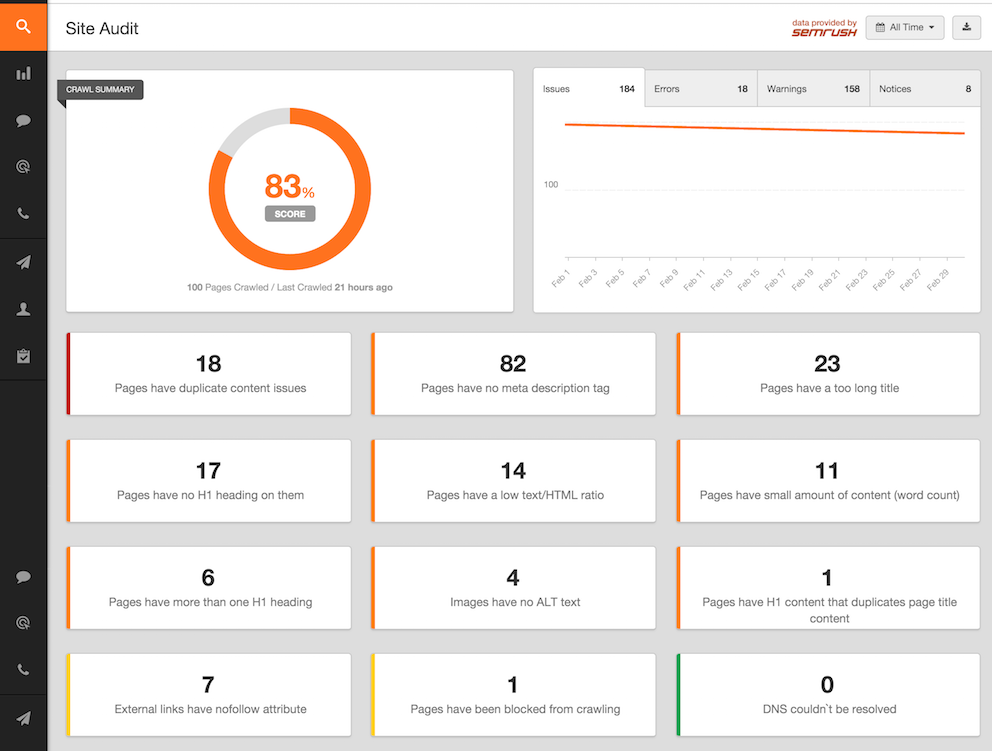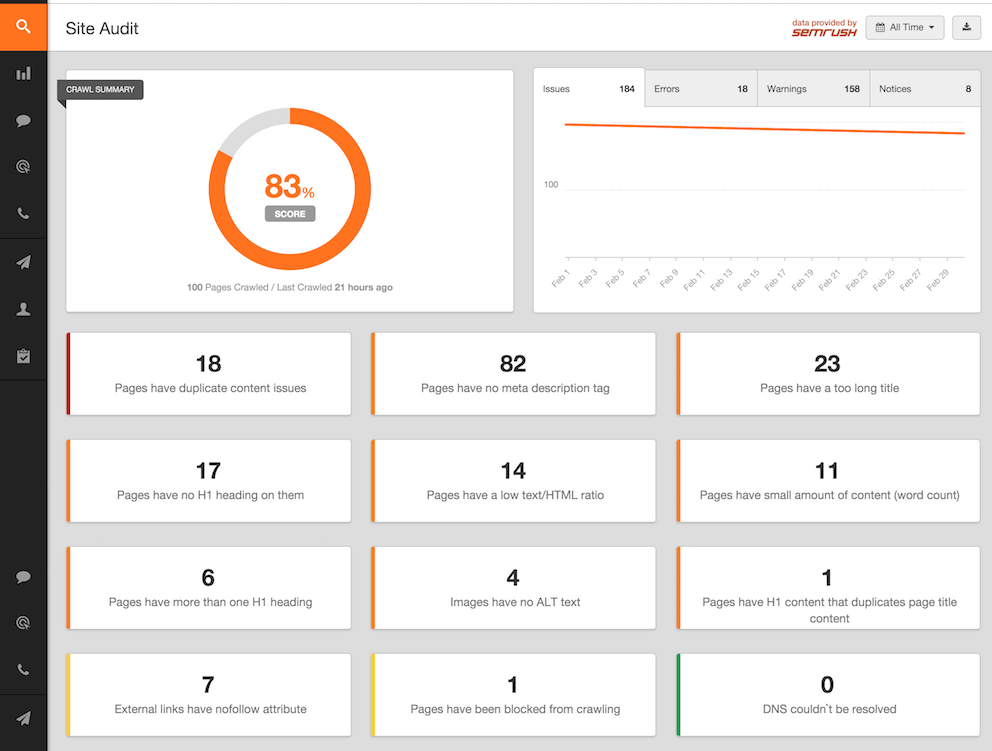 What else can Agency Analytics do?
You can hook up your other marketing services like
Google Analytics
Google Adwords
Facebook Ads
Call Tracking (Call Rail)
Social Media channels
Generate automatic reports
Automated reports
Of course every keyword tracking tool will allow you to generate reports. Agency Analytics is no different. I just wanted to highlight that you can set up reports to be emailed to yourself or your team members. The reports look great and include anything you want from your dashboard.
Wrapping it up
In closing, Agency Analytics is a great tool to track your keywords and show you how well your website is ranking in the SERPs.
If you run a small SEO shop or manage a couple of websites for yourself or clients, then this tool is competitively priced and offers a lot of similar features as other tools and services.
To be 100% honest. Services like SEMrush and Ahrefs have more features and even a service like BuzzSumo should be mentioned.
However, in our personal experience, you should spend more time writing great content, putting together marketing campaigns, dealing with customers, and improving your workflow then you should on micro managing your SEO rankings. The search terms will do what they are going to do. You just need to keep your eye on the overall status of your website.
Check out Agency Analytics' free 14 day trail and then decide if it's a fit for you and your business.
This post uses affiliate links which help me generate a small commission if you decide Agency Analytics is a fit for your business.
Join The Newsletter
Get occasional emails from me when I publish new projects and articles.