My Foray Into The World Of Google Tag Manager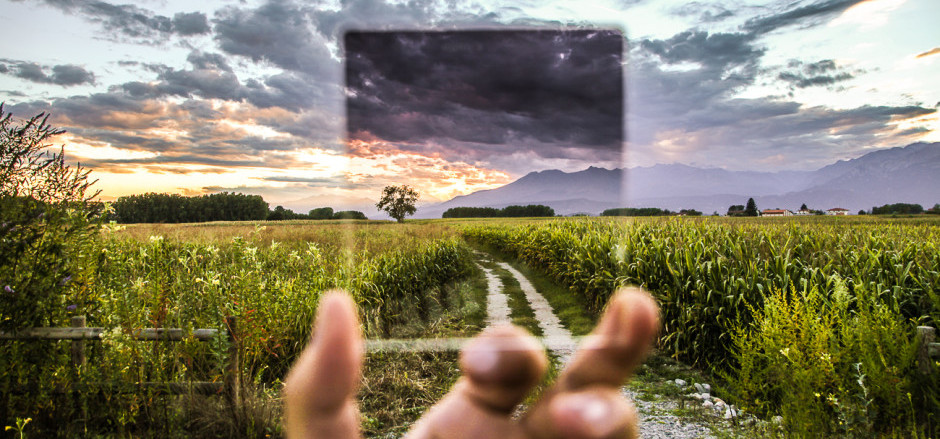 I have heard online marketers talking about Google Tag Manager (GTM from here on out) for some time now.
I took another look about a month ago and was still unconvinced if it made sense for this blog.
The use case seems geared towards large websites with numerous departments managing content, code, and other website activities.
A few things have recently happened that have me curious about what GTM is all about.
The first thing is actually an accumulation of a couple months of frustration, trail and error, and failure.
I have been hit hard by referral spam in my Analytics account. I have over 80% of my traffic coming from Russia.

I have blogged about it, read about it, tested ways to filter it, and still can't get rid of it.
So I started looking for other options.
Now, I don't think GTM will solve this problem because it just fires the GA tag but what I am saying is this….
I have screwed up my GA data so bad that why not learning something new.
If I loose a couple weeks of data while implementing GTM so be it.
The other action (or lack thereof) that piqued my interest was no responses on a Warrior Forums topic I posted.
I usually hit up Warrior Forums with some of my online marketing questions. I asked about GTM and no one had anything to say.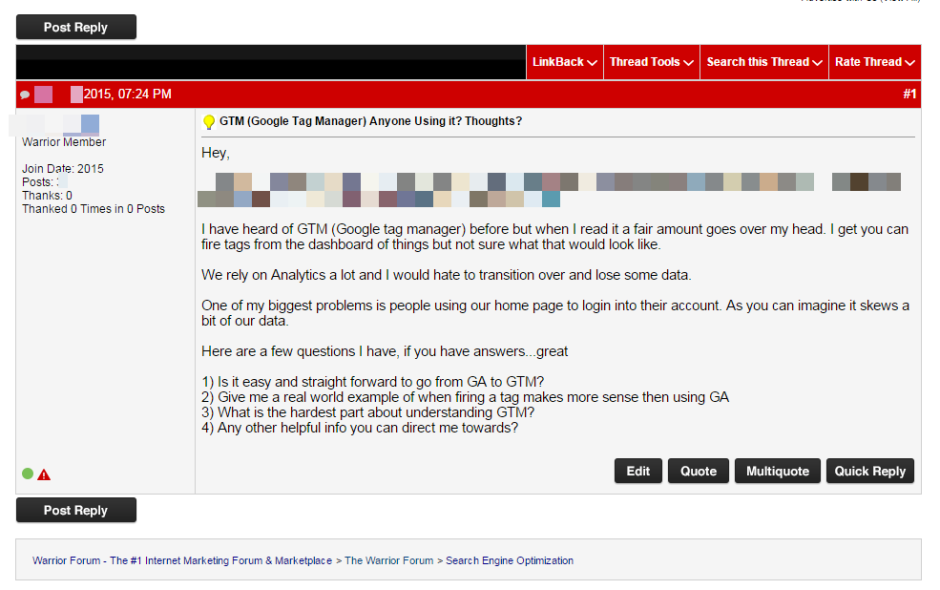 This leads me to believe 2 things.
Marketers haven't adopted this because their sites are small and manageable.
Marketers aren't using this because it causes more work then it's worth.
A note about assumption #1…
GTM allows you to create tags that fire when a rule is met. The purpose of GTM is to take pressure off a marketer having to rely on a web dev or programmer to install necessary code for campaigns (think Adwords, Retargeting, Banner Ads, A/B testing etc).
GTM allows a container code to be placed on every page, and then fired when needed. These seems like it would scale nicely.
Another thing I really like about GTM is you can test each tag before you fire, set permissions on who can fire tags, and roll back changes.
For a blog this size implementing GTM might not make sense. But I don't care because I like learning and testing things.
So here is how the rest of this post will go.
Questions I have going in
Step by step implementation guide
A follow up a couple weeks after with my review of GTM
Lots to cover, lets get to work.
My biggest question is will I lose my historical Google Analytics data. If I understand it correctly you have either GA or GTM.
So when I create my GTM container and fire my GA code on all pages how will that look?
Can I still get all of the same Analytics reports?
I assume I will still login to GA the same way and manipulate data the same way.
Will UTM tracking codes still work the same? Don't see why they wouldn't
I have read concern about cross domain tracking, but apparently there is a fix for that.
 Step By Step Guide
First you will need to sign up for a GTM account here.
Click "Add New"
Name your account and decide if you want to share your info with Google, even though I am sure they will take it regardless.

Configure the container settings. I am not 100% sure on this but you might want to include the www and non-www in the domain section. I will update this with more info when I find it.
The official Google YouTube video says place this below the opening body tag of your website. Do that if you want to go by the book. I am going to include it in the head because I am a rebel and that is where I want it.
I put the code in my header because it is easier to initiate that code across all pages on my website based on my WordPress set up.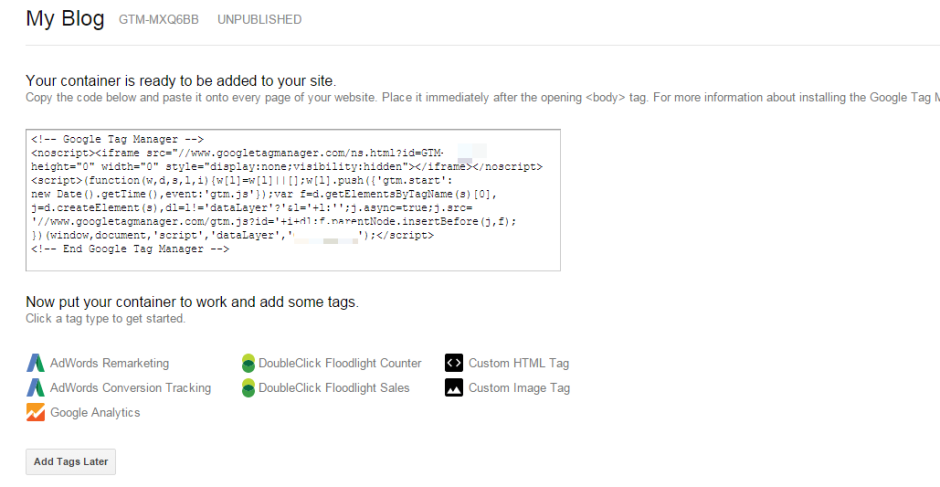 Now that we have the container installed we can start creating tags to fire.
I want to start with adding my Google Analytics tag and have it fire on every page.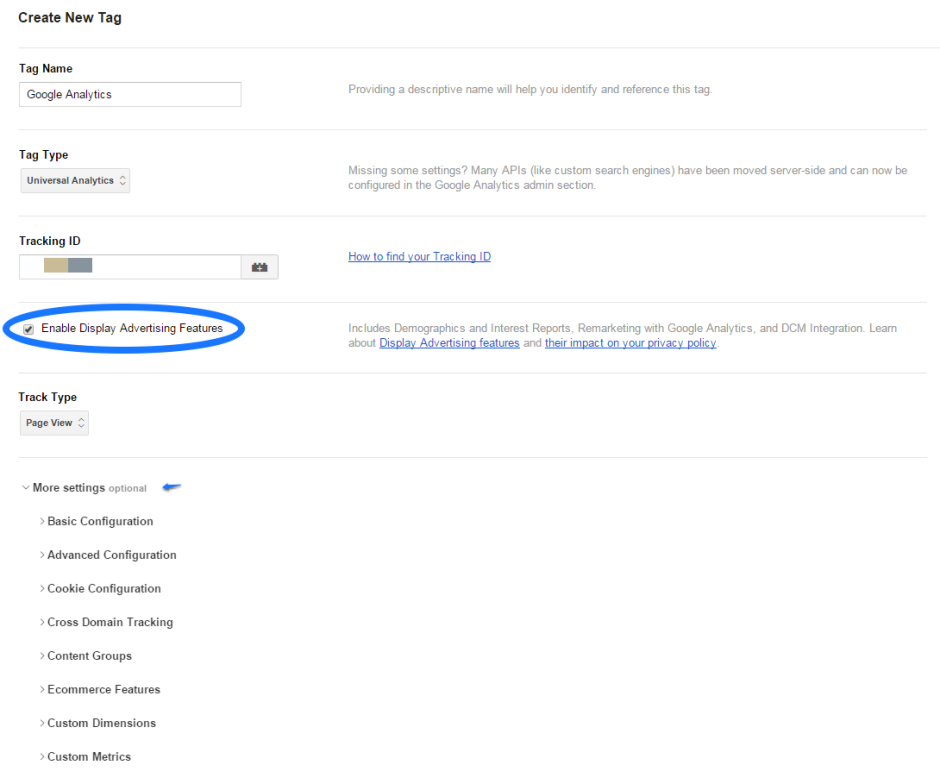 One interesting thing to note here is the ability to enable display advertising features. I looked into this last week in my Analytics account. Basically this will help segment your website visitors with some special reports. You might need to update your privacy policy if you are turning this on.
The advanced and optional configuration options are pretty complex and specific. If you know what they are, go for it. Because this blog is so simple, none of them apply to me.
Make sure you add all pages to the firing rules

Side note: you can create blocking rules. I am going to set one up for referral traffic from Russia. I am going to block all Russian traffic. Could I be filtering out legit visitors? Yeah probably, do I care? Not really. But first I need to figure out how to block by HTTP referrer and not by URL but perhaps DNS or ip range. More on this later. 
That is it. We have officially set up our first GTM tag.
What other tags can you add?
Adwords Conversion Tracking
Adwords Remarketing
DoubleClick
Custom HTML
Event Listener
Display Ad Tracking
Search
Audience
Other Analytics
Let's take a look at the event listener tag. I have always found it to be a useful Google Analytics report.
An event can be a lot of things, if someone clicks a link, stays on a page for a certain amount of time, or performs an action.
I will make a tag that fires on this blog post only when every some one clicks a link.
So follow the steps above by adding a new tag, select link click listener.
Next set the rule using the url contains (http://mydomain.com/blog-post)
I will report back after a few days of running GTM with my thoughts, reviews, and updates to this blog post.
Want to get email from me?
I promise to only send valuable content and updates. We all get too much email and I promise not to spam you with stuff you don't need to read.